The 37th Battalion |
home


The Men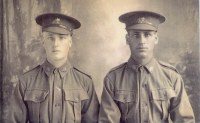 Alfred & Albert Gundrill
Albert Edward GUNDRILL
No. 883
"C Coy"
K.I.A 12 - 10 -1917
Albert Gundrill was born in Carlton, Victoria. He enlisted into the A.I.F on the 28th of February
1916, with his brother Alfred. Albert was 24 yrs 4mths and worked as a labourer. He was 5 ' 10 1/2 " and had hazel eyes and fair hair ( although another description has him with grey eyes and brown hair?).
Albert embarked on the "Persic" on 3/6/1916. After some time in England, the 37th proceeded overseas to France.Albert was wounded in Action on the 28th January 1917, with shot wounds the right arm and forearm.It was a "blighty" injury and Albert was sent to England aboard the H.S. Cambria. He stayed in hospital untill the 8th of March , then on furlough from the 8th untill the 23 of March. He left England to go back to France on the 19th of April and on the 23rd of April he marched out to the front again. He rejoined the battalion on the 27th April. There is no more details about Alberts movements until the 12th of October - the battle of Passchendaele - one of the darkest days in the battalions history. Albert was wounded again and as he was waiting for treatment at a casualty clearing station a shell landed and killed him instantly.
Australion Red Cross Information Bureau Melbourne
"I knew Casualty. He was a man about 5.11", well built, dark complexion about 26 years of age. Casualty was at Passchendaele during the advance and was on duty at the R.A.P. He was standing outside of the dressing station when an H.E. shell exploded near him, pieces entering his head and body killing him instantly. I was 20 yards away at the time the shell exploded, and I saw his body immediately afterwards, and I was in charge of his platoon. He was buried near the R.A.P at Hamburg Farm. A cross was erected with his number, name and unit on it."
Informant - J.A. Smith
No. 105
Source - Frank Gundrill - Alberts nephew
Private J.H CLARKE
N°5996
Private Clarke - 1176 days army service. When he enlisted from Brunswick, aged almost 50, Harry Clarke was a storeman. He was overseas for 1050 days, serving with his battalion in France, and was fortunate not to have been wounded. He was 5'8'' tall, and had assets of 450 Dollars when he came to Red Cliffs.
Clarke married Adelaide Ricketts, and they had 2 children. Their son Donald John worked at the Red Cliffs pumps for many years, and their Daughter Jean married Horace Allen, a oldier settler at Merbein west. Their daughter, was Mrs mary Glassborrow of Ringwood. In 1932 the block was sold and Clarke returned to Melbourne, residing THORNBURY , and he died aged 67 in 1934.
Source - Yves Fohlen from book about the RED CLIFF SETTLERS
John JACKSON
N°3083
Born in 1891 he was a block worker at Mildura when he enlisted. Overseas for 1208 days, he served in France and Belgium with the 37th Bn. He was 5'11'' tall. Jackson also enlisted in WW2 IN THE AMF, and served 281 days at the Central Ordnance depot.
Jackson married Kate lillian Brown (England) before he came to Red Cliffs. Their children were Lawrence; Ray.
John Jackson died in 1950 aged 59.
Source - Yves Fohlen from book about the RED CLIFF SETTLERS
Daniel Joseph Hardy