The 37th Battalion
|
home


Postcards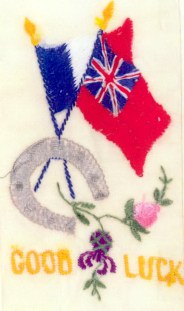 Salisbury 15 Nov 1916

Dear Alice,

Just a few lines to wish you a merry christmas and a happy new year. Hoping this card gets there in time. Are leaving for the front on next Wednesday night. It is getting terrible cold over here now you could hardly believe how frozen everything gets. I must now close this card. From your sincere friend

Alf. Gundrill



Postcard from Albert Gundrill

K.I.A 12- 10 1917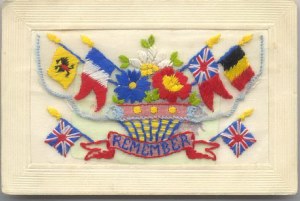 Somewhere in Belgium 17- 7- 1917
Dear Merry,
Just a few lines to let you see that I haven't forgotten you yet. hoping this will find you and all at home injoying the best of health.I am doing well and keeping in good health so far. Alf has gone to hospital with his arm. It never got right from that time he was wounded so thay had to send him away again so he get a good spell this time.It's no bon here things have been pretty lively for use since we push forward, it gave us plenty of work to do now. I haven't heard from Steve for months. Tell him to write some time. We are having some good weather now, we had a little rain. Well Mary there's very little to write about so I have to close now
with love from Albert XXXXX
remember me to all around there and don't forget to write a few lines and let use no how you are all.
Inside front of postcard is another little note - Belgium 17-7-1917
I'm thinking of you with best wishes from Albert
hoping this will find you all quite well at home. Goodbye

Postcard From Alfred Gundrill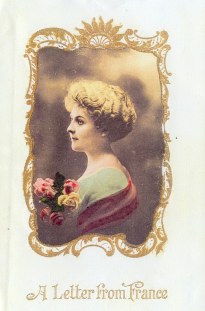 Wed. 29th Nov. France 1916
Dear Alice,
I recieved your cards today and was pleased to hear from you. We are close up to the firing line but have not been in yet. There is a few shell holes around here. We are both quite well and having a good time. We have just been down for a hot bath you get a clean change of clothes given to you too. This is not quite up to England but could be worse. I must now say goodbye
Your sincere friend
Alf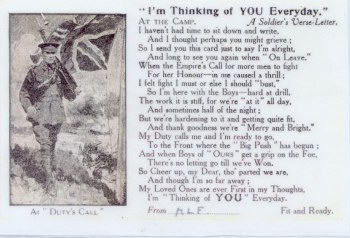 Alot of our chaps were sent to France last week as reinforcements. Tom Noble is over here now I saw him last Sat. They are all isolated with mumps we have got 250 german prisoners here I m sending you a photo it was finished in a hour so is not much good. I must now close
with best love
from Alf

Larkhill 11th Sept 1916
Dear Alice,
jut a few lines to your welcome letter. Lord French is coming to inspect us tomorrow so it will be a busy day forr us. How is Bill Bennetts getting along these times